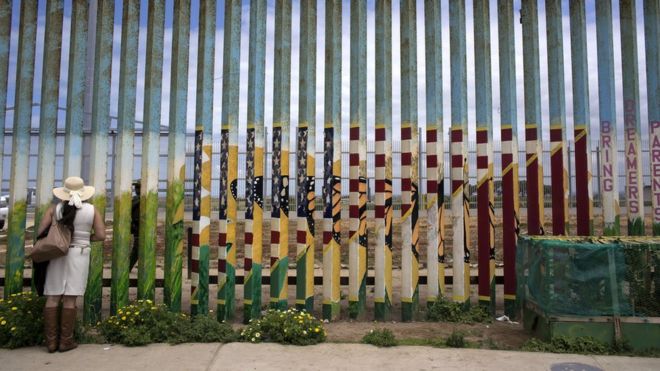 On March 9th, Eric Olsen, the CEO of construction materials company LafargeHolcim, told Agence France Presse that the company is "prepare to supply our materials to all type of infrastructure projects in the United States." The statement was widely interpreted as an intention to supply materials to President Donald J. Trump's controversial border wall.  "We are the leader in cement, so we supply all our customers," he said. "We are here to support the building and development of the United States."
The controversial wall is a billion dollar contract and is surely a windfall for construction and infrastructure supply companies. But involvement in the project is almost certain to court criticism and may raise serious risks that companies may not be able to dismiss.
In its annual World Report released in January 2017, Human Rights Watch noted that the US policies on immigration "violate internationally recognized human rights".
The election of Donald Trump as president in November 2016 capped a campaign marked by misogynistic, xenophobic, and racist rhetoric and Trump's embrace of policies that would cause tremendous harm to vulnerable communities, contravene the United States' core human rights obligations, or both. Trump's campaign proposals included deporting millions of unauthorized immigrants, changing US law to allow torture of terrorism suspects, and "load[ing] up" the Guantanamo Bay detention facility.
Involvement in a project that violates international norms exposes companies to complicity in human rights violations. Companies are likely to face criticism by civil society groups and negative media attention. They may also be caught in what is likely going to become a political tussle between the US and Mexico if the wall goes up.
But there are even more serious consequences from involvement in the project. Companies face potential divestment from human rights-sensitive investors, which include some of the world's largest pension funds. On 17 March, for example, the Norwegian Pension Fund announced it is divesting from companies involved in the Dakota Access Pipeline project in the US. Similarly, US cities have cut ties with banks financing the pipeline. Nordic private investor Storebrand and Bank DNB, as well as Dutch bank ING have also sold off their investments in and loans to DAPL companies. These decisions were based on the project's human rights impacts.
Olsen's statement has already triggered a sharp rebuke from the French government and Lafarge is facing a potential loss of contract from the Paris city government. And the contract has not even been awarded yet. Is Lafarge willing to take serious reputational and business risks for this wall?